Ignore SolarCity Corporation: Here Are 3 Better Stocks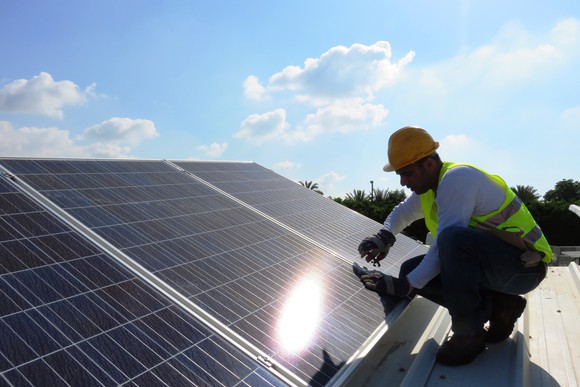 SolarCity Corporation (NASDAQ:SCTY) has gone through a roller coaster the past three years as investors have fallen in and out of love with solar stocks. Now, the company is in the midst of a buyout offer from Tesla Motors (NASDAQ:TSLA), which could make for one giant renewable-energy company.
Given the potential risk facing SolarCity today, here are three solar stocks that are in a better position in renewable energy.
Vivint Solar
If you're interested in SolarCity, you should love the value in shares of Vivint Solar (NYSE:VSLR) right now. Management projects that there is $5.85 per share in net retained value in the business, well above the stock's $3.31-per-share value. But that's not the only place Vivint Solar presents better value than SolarCity.
Below are a few key metrics for both companies, including market cap, MW installed, and cost per watt.
| Metric | SolarCity | Vivint Solar |
| --- | --- | --- |
| Installation cost per watt (Q2) | $3.05 | $2.94 |
| Market cap | $2.4 billion | $357 million |
| MW installed (Q2) | 201 MW | 61 MW |
The market cap and installation figures should give you an idea of the difference in scale in the two companies' operations and the difference to their market valuations. Vivint Solar installs just under one-third as many MW of solar as SolarCity, yet its market cap is one-seventh the size.
On top of that, Vivint Solar now has lower...
More